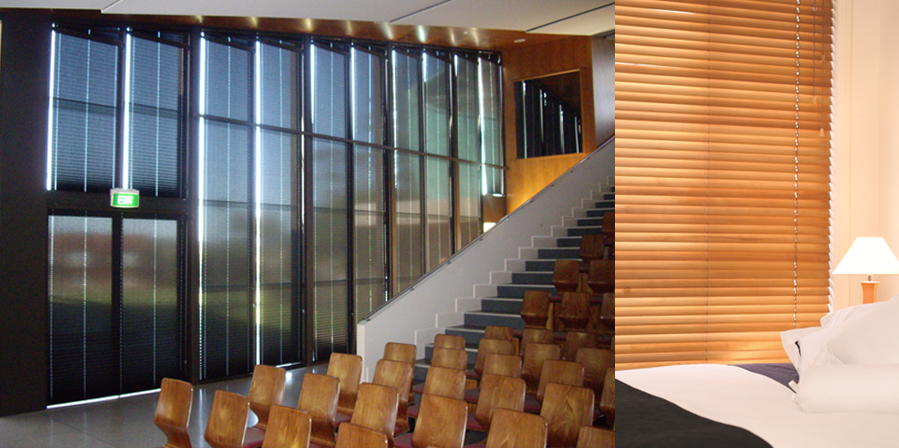 Cedar Venetians
Innovative Western Red Cedar Venetians are a classic blind choice made from the highest quality genuine Western Red Cedar.
Available in 46mm, 60mm and 84mm wide slats, they complement contemporary as well as period and heritage homes, adding warmth and natural texture to any interior space. Choice of natural Oiled finish or lacquered finish. We can custom paint or stain finish
​
Fibrewood

Innovative Fibrewood Venetians are made from expanded foam polymer with a special UV fade resistant coating. This makes them elegant, durable and provide an economical alternative to traditional timber/cedar Venetians..
Fade resistant, Fibrewood also resists peeling and cracking. Completely washable, this product will not absorb moisture and is suitable for wet and humid areas including bathrooms and kitchens.
​
50mm Wideline Venetians
​
A classic window covering choice, 50mm Wideline Venetians compact neatly for minimal stacking bulk. Innovative 50mm Wideline Venetians differ slightly from our other Venetians in that they operate using two sets of cords instead of the traditional wand. One set of cords is used to tile the blind, while the other is used to open and close slats. Offering excellent light and shade control.
Innovative 50mm Wideline Venetians are ideal for large span windows.
​
Slimline Venetians
Our Venetians offer an innovative blend of classic style
Slats are designed to compact neatly, reducing staking-bulk when not in use. Our system is designed for optimum function across spans of up to 3200mm.Blade sizes are 16mm Micro or 25mm Slimline Venetians.
​
​
Motorisation
Innovative Curtains and Blinds are proud to support Somfy motors, the world leaders in the design and supply of automation systems for window furnishings, for both domestic and commercial buildings. Somfy automation systems are designed to improve customer's comfort, security and energy efficiency by allowing them to automatically control the amount of sun and shade within their home and working environment. For more information on Somfy motors go to our Motorisation page.
Child Safety Devices
To comply with mandatory safety standards we supply child safety devices. The relevant device should be fixed to the wall, or architrave, to tension the chain or cord which reduces the risk of death or injury to young children.
For more information and inspiration on selecting the perfect window coverings for your home, visit our Innovative Curtains and Blinds
showroom which features our finest quality of interior and exterior window furnishings, along with expert advice to help you select the right window covering for your home.
​
​
We are located at:
​
​
432 Heidelberg Road, Fairfield Victoria 3078
Alternatively, contact our customer service team with any questions or queries.
1300 134 843
Or send us an email via the Contact Us page